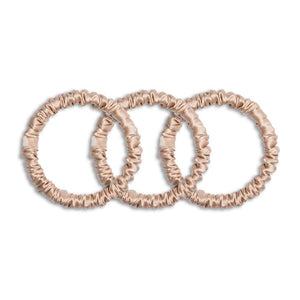 Best organic silk scrunchies for protecting your hair

These thinner hair tie scrunchies combine the beauty benefits of silk with a firmer grip to help keep your hair in place. Made of the same cruelty-free silk material as our organic peace silk pillowcases. They're an excellent option for people with finer or shorter hair.

These silk scrunchies are comfortable to wear all day long without that pulling feeling you get from regular elastic hairbands. Silk's smooth texture glides through hair, smoothing the cuticle without causing any friction, keeping your locks in optimal form by protecting the hair from breakage and thinning.
100% Cruelty-free, Organic Peace Silk

25mm ECO Recycled Polyester Elastic 

Set of three: Hazelnut

Global Organic Textile Standard (GOTS) certified