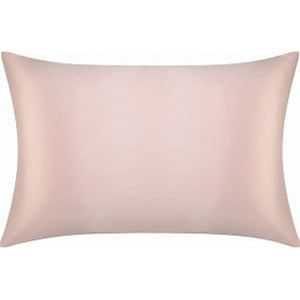 The perfect addition to your beauty routine
Not only does a silk pillowcase feel super smooth and comfortable to sleep on, but it will also help reduce friction on the skin and hair, so you can wake up without bedhead and sleep lines on your face.
100% Cruelty-free, Organic Peace Silk

Equivalent to 24 momme (

(regular think silk is about 16 momme)

Free from harmful dyes and chemicals

Standard queen size, fit pillow 50cm x 75cm (20"x30") 

Include matching Organic Peace Silk pouch

Global Organic Textile Standard (GOTS) certified

Pink blush
Peace Silk means non-violent silk breeding and harvesting. Peace Silk allows the completion of the metamorphosis of the silkworm to its moth stage, whereas most silk traditional harvesting requires the silkworm to be killed in their cocoon stage. No animal suffer or die for the silk to be produced, making it a favourable alternative to regular silk for those who do not believe in harming animals. Peace silk is cruelty-free. Learn more here.